Amazon a Must for CPG Companies
The pandemic has forced consumers to drastically shift their online shopping habits. Due to this shift, selling on Amazon has changed from a nice-to-have to a need-to-have for CPG companies. As we often tell our clients from the CPG industry — how your brand is formulated for Amazon or any other marketplace is just as important as what brick and mortar locations your product needs to be in.
To many CPG companies, Amazon is an unknown and untenable behemoth. But the reality is that when done correctly, Amazon can be an incredible opportunity for brands that know how to tame the beast.
From pricing and listing optimization, to review generation and analytics, here are 9 tips that all CPG companies should incorporate into their Amazon marketplace strategy.
1. Optimizing Your CPG Packaging for eCommerce / Amazon and NOT ONLY Retail
Most CPG brands only think about how their packaging shows in physical retail stores and not how it appears on the Amazon Search Results Page. Amazon customers comparison shop all the time, and about 75% of purchases are either unbranded or involve some form of comparison shopping via shopping apps or price comparison sites.
That's why it's crucial to highlight your product's key features on the product packaging (i.e. the product's main image that appears on Amazon) so that it's visible on the search results and when compared against unoptimized listings.
See the example below — while both protein shake products are actually sold as a 12-pack, it's not clear from the image that Evolve has a similar offer to Premier. Premier's image makes this clear and customers will be more likely to click it instead.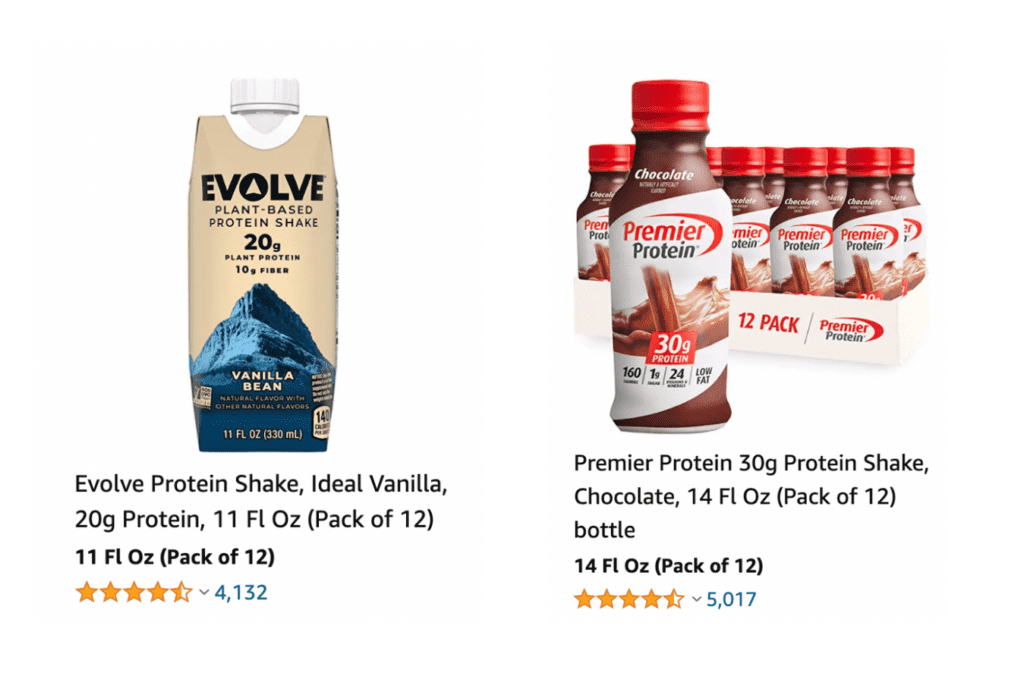 Since Amazon doesn't allow text on its main image, you can use this tip to highlight features that are important to your customer. In the same example, notice how from the SERP you can immediately see the words 'protein', '30g', '12 pack' all without needing to click onto the listing itself. This is not as obvious with Evolve and is likely costing them clicks. 
Another optimization tip — crop your image to reduce white space and use contrasting colors to make your listing stand out.  Cropping the image makes the product appear larger which subconsciously makes consumers think they're getting more value. Eye-catching colors are important to differentiate and draw attention to the important features in your image.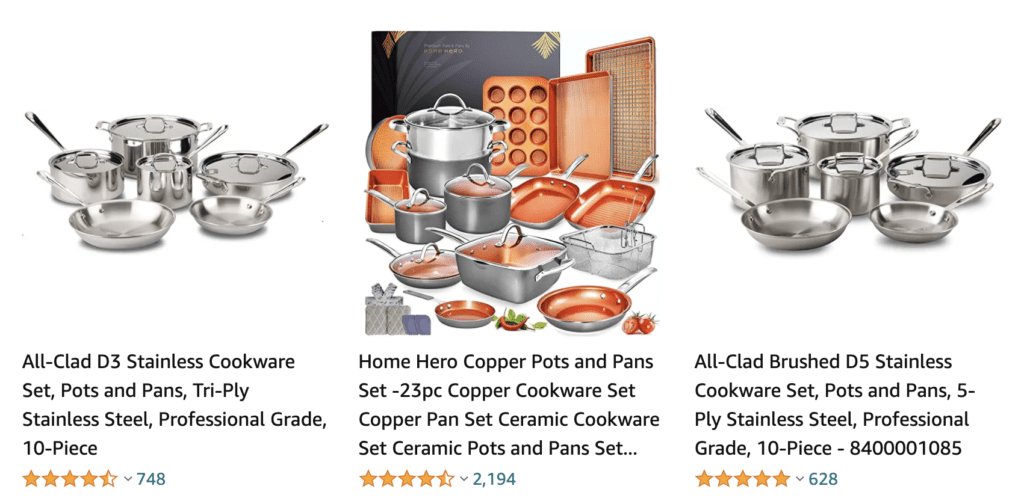 2. Post-Purchase Review Generation Funnel
One of the biggest challenges for new CPG brands is acquiring reviews during early launching on Amazon. That said, it's crucial to have a well-thought-out review strategy from the beginning. 
One of the things we do is to help clients identify and create a 'carrot stick' offer that drives customers to opt into a funnel. This helps drive ratings but also collects customer information for remarketing on future product launches. 
With the right offer, we've seen clients drive anywhere from 50-100 reviews within the first 30 days of launch just from this strategy. It's a great way to build direct conversations with customers from Amazon.
3. Brand Registry for CPG Companies
Amazon Brand Registry is key to accessing important seller tools such as headline ads, PPC videos, Storefronts, A+ Content, and Brand Analytics. What most CPG brands don't realize is that approvals can take time, so it's better to get this done ASAP — especially before the product launch. An often under-utilized program is the Amazon IP Accelerator Program. This program helps fast-track approvals, especially if a trademark is pending.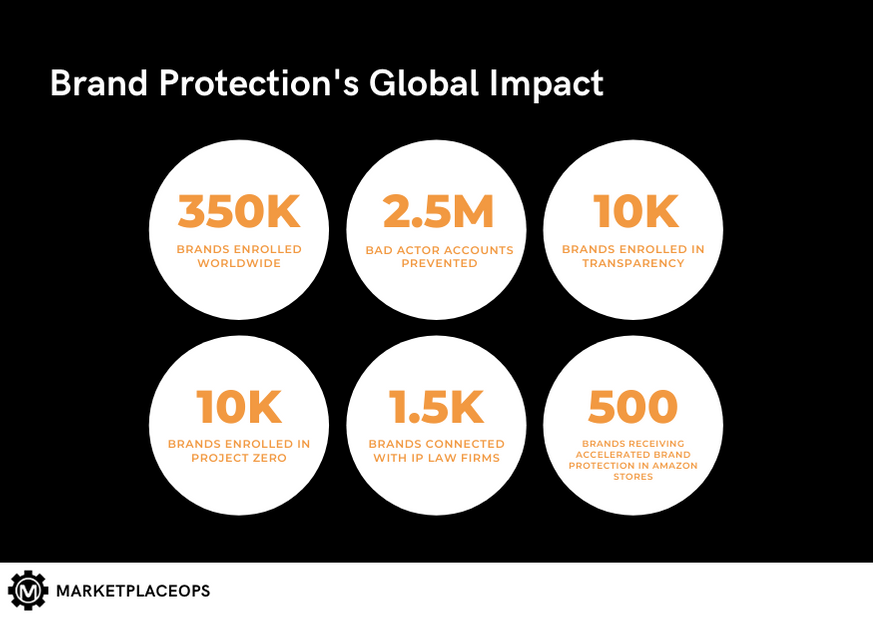 While waiting for Brand Registry approval, ensure that the products you plan to launch comply with Amazon's policies. This includes category ungating requirements, correct browse node IDs, and variation standardization. Those who plan to sell dietary supplements, for example, are now required to submit a Certificate of Analysis (CoA) and Letter of Guarantee to be approved to sell. Note that requirements vary per product category and may result in a listing takedown if not followed.
4. Leveraging <$15 Offers to Drive Entry Point Offers
Many brands don't know that in Amazon's groceries category, any product less than $15 in price can get a 7% discount on referral fees (typically 15%). In other words, by simply merchandising an offering <$15, you are eligible for a 7% lift in gross margin for that specific SKU.

Amazon does this to incentivize new brands to create an entry point offer that encourages customers to purchase from a brand they're unfamiliar with. It's unlikely that customers will spend more than $20 on a brand they've never heard of, so CPG companies should leverage this feature to merchandise a sub $15 offer that can promote purchases for newly-launched products.
This can come in the form of a sampler or variety pack. We often find that these listings can dramatically increase subscriptions and lifetime value (LTV) of repeat customers on Amazon.
5. Using FNSKU Labels Over UPC Codes
For products that expire, Amazon makes it mandatory to use FNSKUs over UPC codes when replenishing inventory. This allows them to segment by lots in the event of any expiration issues. As of writing, Amazon enforces this at random. However, it's best to expect that they'll make this mandatory in the future.
Make sure that your manufacturer or supply chain fully understands Amazon's barcode system. If you have some doubts about what barcode to use and when to use it, our team of supply chain experts at MarketplaceOps can help you.
6. Segmenting Keywords by Branded vs. Unbranded Searches
Understanding the customer journey is vital to optimizing the Amazon conversion funnel. Customers usually find your product via:
Branded Search – a customer sees your brand in a store or ad and searches for it on Amazon. There is no comparison shopping here. They simply want to purchase on Amazon or look at reviews to help make a purchasing decision; or
Unbranded Search – this is where a customer types in product-specific search such as "healthy tomato sauce." It doesn't have your brand and therefore pulls multiple competitors into the search results. Your product is being actively compared to other similar offerings.
CPG companies mistakenly assume that marketing to Amazon customers is a one-size-fits-all approach. The reality is that you can maximize results by breaking out searches into different types and creating a specific marketing campaign for each. In doing so, you can make offers more compelling to drive more sales.
7. Leveraging Virtual Bundles to Drive Higher AOVs
Amazon recently introduced a feature called Virtual Product Bundles which allows brand owners to virtually kit products. This rids the need to physically bundle products with unique UPCs. From a supply chain perspective, it's an incredible way to seamlessly create more SKUs and cross-promote multiple offerings without the extra operational costs.

Brands can leverage this feature to cross-promote newer SKUs against best-sellers, all while increasing overall Average Order Value (AOV). While this has an immediate benefit of increasing SKU count and AOV, the long-term benefit is that with enough bundle purchases, brands can own the coveted 'Frequently Bought Together' (FBT) section on the product page. Owning such has led to drastically increased sales volume across our entire client portfolio.
8. Focusing on LTV as a Growth Metric through Subscribe N' Saves
Lifetime Value (LTV) is a well-known eCommerce metric that encourages CPG brands to look at the long-term frequency of future purchases vs. focusing on the up-front profitability of the first purchase.
Amazon has recently rolled out changes within the Subscribe n' Save program, giving brands more insight into recurring purchases from customers.
For CPG companies on a subscription model, this level of insight is crucial as it helps them look at Amazon as a channel for driving both one-time sales and repeat purchases. Having this mindset gives brands the ability to think about long-term profitability and not just on a one-off basis.
9. Using Brand Analytics to Find High Converting, Relevant Keywords
While tools such as Helium10 and Seller.Tools are great for getting a broad amount of keywords, nothing beats getting the data directly from Amazon.
With the Brand Analytics tool (for brand-registered Seller Central accounts), brands are able to pull high-converting keywords directly from Amazon's database. Simply input your target keyword or competitor ASIN and Amazon will provide you a list of keywords that these ASINs are driving sales from.
Brand owners should proactively use this data to understand the gaps in their keyword targeting mix. Aside from uncovering new keywords, it helps you identify which keywords are best to invest in for promotions.
Final Thoughts
Selling on Amazon involves a lot of learning and proactivity. Even with the Amazon tools made available to sellers, setting up your offerings and advertising strategies can take a lot of trial and error.
If you want to make the launch process as optimized yet time- and cost-efficient as possible, consider investing in an Amazon management and strategy firm such as MarketplaceOps.
Our team of experts can provide end-to-end management expertise to your CPG company's first product launch on Amazon. This includes listing creation, category ungating, merchandising strategy, and inventory planning.
Schedule a free consultation with us or shoot us an email at hello@marketplaceops.com to learn more about how you can easily supercharge your growth on Amazon.