Driving External Traffic to Your Amazon Store
Driving external traffic to your Amazon store is a great way to find new customers, boost keyword ranking, and gain an advantage over your competitors. Outside Amazon, external traffic sources can also help you build a customer list that can be used for future campaigns and relationship-building.
Beyond optimizing your listings through keyword research, quality photos, and legitimate reviews, having a strategy that touches points outside of the already crowded Amazon ecosystem is an opportunity you shouldn't miss out on. It's essentially a streamlined way to acquire new customers and boost sales without the noise.
Before You Begin
Before setting up different sources to direct traffic to your Amazon page, keep in mind the following:
1. Direct External Traffic to Relevant Listings
It may be tempting to create a campaign that could drive traffic to slow-moving products, but keep in mind that setting up external traffic sources can be expensive. Whether it's a Facebook ad or a trendy influencer, your promotions won't matter much if the product your pushing isn't up to your target market's interests.
2. It's All for the Customer
Even if your main goal is to ultimately boost sales on Amazon, it's not just about how you optimize your assets but how the customer feels throughout the purchasing journey. Put yourself in your customers' shoes and ask yourself the following:
Does the landing page make it easy for me to access the product and know more about it?
Is this contact form worth a few minutes of my time to get a discount code?
Is this ad customized and relevant to my needs?
If your traffic source looks to be more of a nuisance for the customer, then you can say goodbye to them before they even land on your Amazon product page.
3. Stay Consistent In Each Step
Don't forget to keep your external channels consistent with each other and most especially with your brand. This includes visuals, copy, and product information (on top of your Amazon listing). Doing so ensures you look trustworthy and keeps the customer focused on the end goal of conversion. 
4. Don't Drive External Traffic Straight to Your Product Page
It may seem obvious to direct customers straight to your listing, but this might actually hurt your ranking on Amazon. If you overwhelm customers with a product they're still considering — and might not even buy — Amazon's algorithm will notice the low conversion rate – which will bring down your site ranking.
Most advertisers will utilize a landing page for their Amazon store to direct traffic. Not only will this ease the customer into your brand, but it will also gather important data such as email addresses and Facebook pixel data via Facebook Messenger – which you can then use to reach out to them before they get to your Amazon listing.
How to Drive External Traffic to Your Amazon Listing
1. Test Out Various Platforms
It's important not to use too many platforms as this can be difficult to manage — not to mention costly. Don't risk running high on your costs only to end up with unimpressive results. The key is to test out 1-3 different traffic sources with high potential. Afterward, focus solely on optimizing those few sources rather than spreading your resources too thin.
Let's say you test things out on Facebook first. You can set your daily ad budget to the minimum ($1-$3), focus on a single objective (awareness, consideration, or conversion), and track your results for a few weeks. Remember to factor in how your test campaign was set up if it doesn't produce the desired results after testing.
Other popular sources to drive traffic include Google Ads, Instagram, Pinterest, and Youtube. Not all channels are the same, and there's no one best way to drive external traffic to your listing. It all depends on how you optimize your sources according to your product and target audience.
2. Use the Power of Organic Advertising
Though paid ads are always part of a good marketing strategy, foregoing organic advertising is a mistake most tend to make. We strongly recommend building an online presence on different social media platforms via a business page for your brand. Creating a business account on Facebook, Instagram, and Pinterest is free, and apart from having access to page analytics, you also get to build genuine customer relationships — a feature that other external channels can't directly provide.
Apart from having a direct line with customers, social media platforms also allow you to utilize the power of influencer marketing. Getting an influencer that has a wide reach but is highly-relevant and authentic to your brand is a favored strategy for driving organic traffic to your Amazon page — especially in an age where people are becoming warier of ingenuine product promotions.
Combined with video media such as Youtube, IGTV, and Tiktok, social media marketing provides an alternative to physical shopping experiences. A review or how-to video helps customers to decide on an online purchase they won't be able to feel or test out in-store.
3. Set Up an Effective Sales Funnel
So let's say you've already set-up a high-quality landing page for your brand – the next step is to enhance it by putting a sales funnel in place.
Using the customer data you've gathered from the landing page, you can now utilize different non-aggressive techniques to get people to convert. An example would be to email them a single-use promo code for your product  — with an emphasis on how it's an exclusive, limited-time deal just for them.
Note, however, that an effective sales funnel also means as few steps as possible in the path to purchase. Make data collection, product promotion, and redirecting to your Amazon page quick and seamless.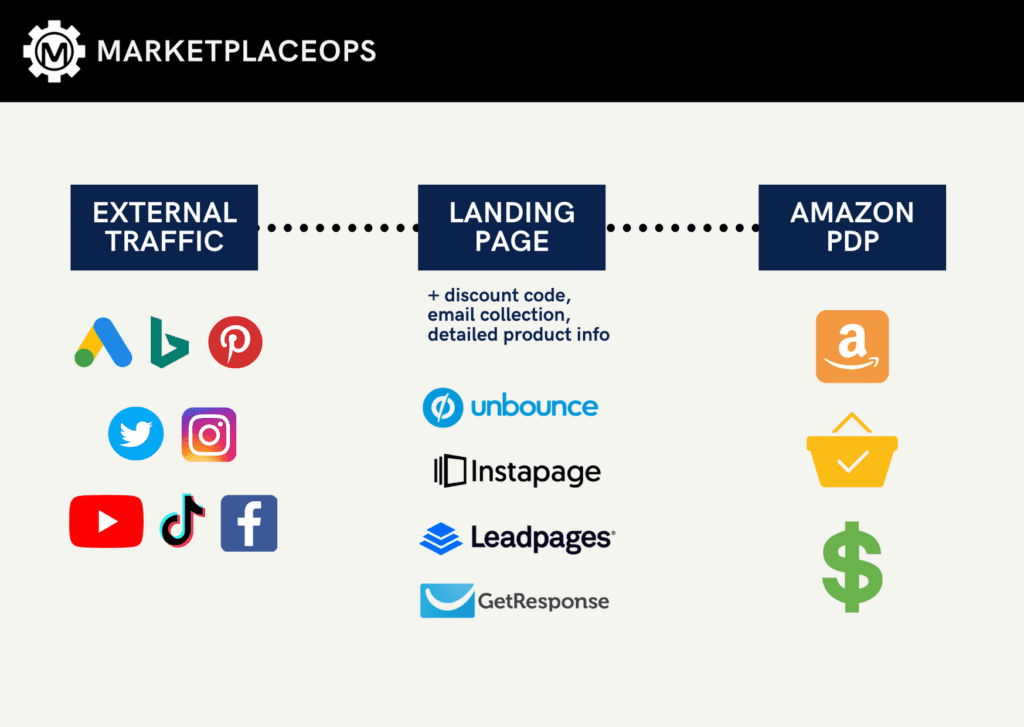 Final Thoughts
Though Amazon stands as the largest online marketplace in the world, it would make sense to direct all your resources to the platform in order to build a substantial customer base. However, it should be noted that there's always an untapped market outside of Amazon waiting to be put to good use.
With a healthy risk-taking attitude and a willingness to invest in testing, you can effectively pinpoint which ones work best for your brand.
If you need help in improving your traffic rank, revenue, and online discoverability tenfold while being cost- and time-effective, don't hesitate to contact our team of Amazon experts today. Sign up for a free consultation here and learn how you can further supercharge your brand on Amazon.