Amazon Best Sellers Rank
or BSR is a score that Amazon assigns to a specific product. This number represents the demand and popularity of a product given a specific period, as well as indicates how frequently it sells. It also measures how well a product sells in relation to other items in its category.
That said, a lot of factors can contribute to your product's BSR, such as sales volume and historical sales data. Moreover, each category has its own Amazon seller ranking system.
You can find the BSR on multiple pages, including:
Category-level Best Selling Products page
Main Best Selling Products page
Product Description page
To understand BSR, let's look at Wrangler Authentic Men's Twill Cargo pants as an example. If you look at the photo below, you'll see that the product is #3 in the Men's Casual Pants category. This means that it has the third-highest current sales in that category.
Generally, you'd want to have a lower BSR number, with 1 as the highest.
How is Amazon BSR Calculated?
BSR is a good indication of how well a product is currently selling on Amazon. The sales rank of the top 10,000 in different categories is updated every hour, those below 10,000 are updated every 3 hours.
Though the BSR reflects the product's current sales, Amazon also considers historical sales data when calculating the BSR.
To illustrate this, let's look at a hypothetical example. Let's say that Product X is currently ranked #400 in the Kitchen and Dining category. Product Y is ranked #800 in the same category. Let's say that Product X made 20 sales in the last hour, while Product Y made 10 sales. Now, in the next hour, X sells 10 products while Y sells 20 items. You'd think that the products would swap places, right?
Well, not really. Here's what happens – X goes down to #300 while Y goes up to #700.
BSR doesn't have drastic fluctuations because the ranking system also considers historical sales data in calculating a product's rank at any given time. You'd need to have pretty strong historical sales numbers to stay in the top 5 best-selling products in your category.
Why It's Important to Have a Good BSR Amazon Rank
According to various Amazon retail experts, BSR is mainly a vanity metric. It gives you bragging rights. Plus, it's pretty easy to manipulate. In fact, some sellers engage in black hat practices to drastically increase their sales rank.
But even so, BSR is still an important metric to look at because customers use it to measure the product's popularity and reliability. On the seller's side, it gives you a glimpse into how your product is performing against competitors – helping you identify where you're at amongst the millions of products in the Amazon marketplace.
Is BSR a good metric to look at when predicting future sales? Not really. BSR does not directly impact future sales, but it certainly increases your product optics and visibility. Customers are most likely to purchase your product since they associate popularity and sales velocity with quality and reliability.
Products with good BSR are also more visible in the Amazon ecosystem. They appear in the upper portion of the search engine results page (SERP), usually before the organic results. They also appear on the Amazon Best Seller page.
How to Use Your Amazon Best Seller Rank in Making Sound Business Decisions
For new Amazon sellers, the BSR can be a good metric to look at when doing product research for your Amazon FBA business. It helps you identify what products to resell and how quickly you can sell them. If you choose a product that has a 500,000 sales rank, needless to say, that you may face some difficulty in selling it right away.
An acceptable BSR score depends on the product category you're looking at. To illustrate this point, let's look at the hypothetical numbers below: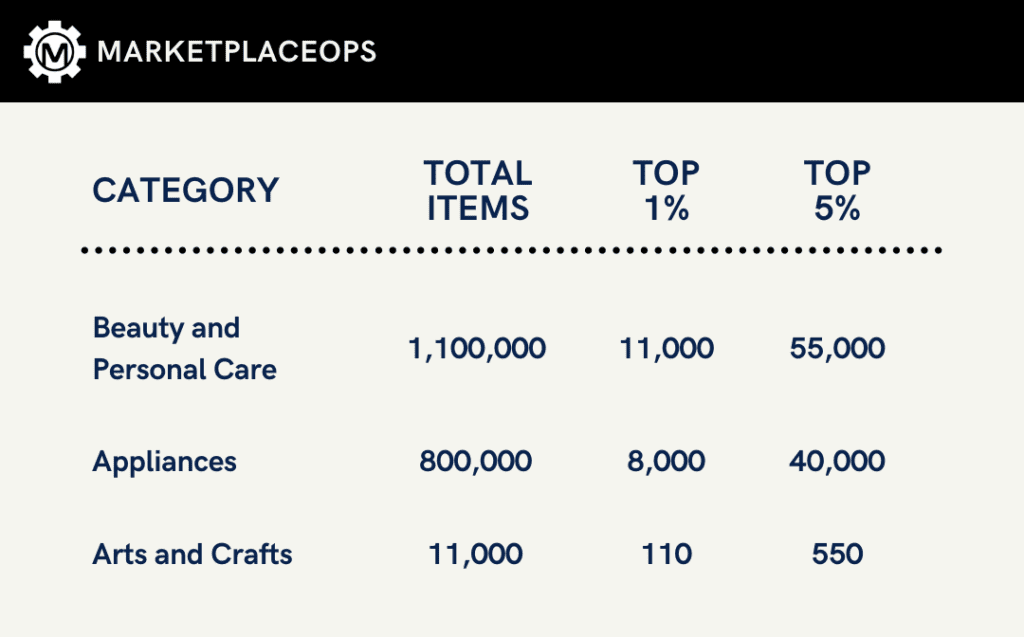 As you can see, each category is different. The Beauty and Personal Care Category has over a million items, so #11,000 is actually a good BSR score. But, #11,000 is a pretty bad score if you're looking at the Arts and Crafts category.
To maximize your sales and avoid losing money on sitting inventory, it's best to resell a product that belongs to the top 1% of products in its category.
You can also use it to estimate future sales using tools like AMZScout Estimator Tool or Jungle Scout Sales Estimator. You can simply type in the sales rank of a product, click on "calculate sales". You'll then see the estimated monthly sales of that product.

Additionally, a good BSR score increases your visibility in the Amazon ecosystem, particularly the search engine results page (SERP). This can potentially increase your sales and can help you win the buy box game.
How to Improve Your Amazon Best Sellers Rank
As mentioned earlier, a lot of Amazon sellers use black hat practices to manipulate their sales rank. Some go as far as purchasing their own products to drastically increase sales numbers.
Here's a list of ethical strategies and techniques that you can use to significantly and organically increase your best seller rank:
1. Optimize Your Product Detail Page
Optimizing your product detail pages (PDP) is a vital step to increasing your visibility in the Amazon SERP. Here are a few SEO tips that you can use to make your listing search engine-friendly:
Conduct extensive keyword research to make sure that you target the most relevant and popular keywords. Choose those that have high traffic, low competition, and high ROI.
Strategically place the keywords in your product title and description. This makes it easier for the Amazon search engine to index your page.
Use bullet points to increase the readability of your product description.
Make sure that your product description is well-written and not simply stuffed with keywords. Dedicate time for writing and proofreading. Remember that optimizing your PDP involves making it understandable and appealing to customers too.
2. Adopt a Wise Pricing Strategy
A lot of sellers overprice their products to maximize their profit margin. This is not a wise strategy, especially if you're selling on Amazon. Remember that Amazon is a highly competitive environment. You would have a hard time increasing your sales velocity if you have a weak pricing strategy. Keep in mind that you must set a reasonable price to win the buy box game and increase your sales numbers.
3. Use High-Quality Photos
Since customers cannot touch and test your products in person, it's necessary to give them as much information and material to experience the product online. Your product description and photos should go hand-in-hand in creating high-quality content that can appeal to your customers in an instant, especially if it's a newly launched product.
For a more comprehensive guide on improving your product page content, check out our free playbook on creating high-converting listings.
4. Run a PPC (Pay-Per-Click) Campaign
The truth is that nothing is purely organic anymore in the evolving digital space. If you want to increase your SERP ranking, running a PPC campaign is necessary. Amazon ads are cost-effective and can significantly improve your page traffic and sales numbers.
Final Thoughts
Amazon Best Sellers Rank is not the strongest and most accurate metric. But, you can use it to predict future sales and identify which products to sell.
Having a good BSR also increases your visibility in the Amazon ecosystem, helps you win the buy box, and improve your product's reputation. Remember that having a Best Seller Badge can be an instant pull for potential customers. 
Amazon is a competitive and complicated marketplace that launching your business or creating an effective marketing strategy from the get-go can be a long and difficult task – but investing in a team of experts can help you achieve your business goals in just a few months. With MarketplaceOps, we can equip you with the right tools, experienced team, and right strategies to supercharge your growth on Amazon.
Contact us today for a free consultation or to learn more!