Amazon Reviews: How Important Are They?
Picture yourself as a consumer looking to buy a set of new copper pans on Amazon. The results on the first page can be quite overwhelming as they all look the same, but what's one of the factors that'll make you click on a certain product vs. the rest? Most likely the number of reviews.
With the abundance of look-alike products online, customers have been using Amazon reviews to help finalize their buying decisions, with 91% of shoppers taking the time to read them and 84% trusting them as they would a personal recommendation.
Though budget is also an important factor, studies show that the average customer is also willing to spend 31% more on a seller that has good reviews. On the other hand, about 94% of customers shared that a negative online review has convinced them to avoid buying from certain businesses.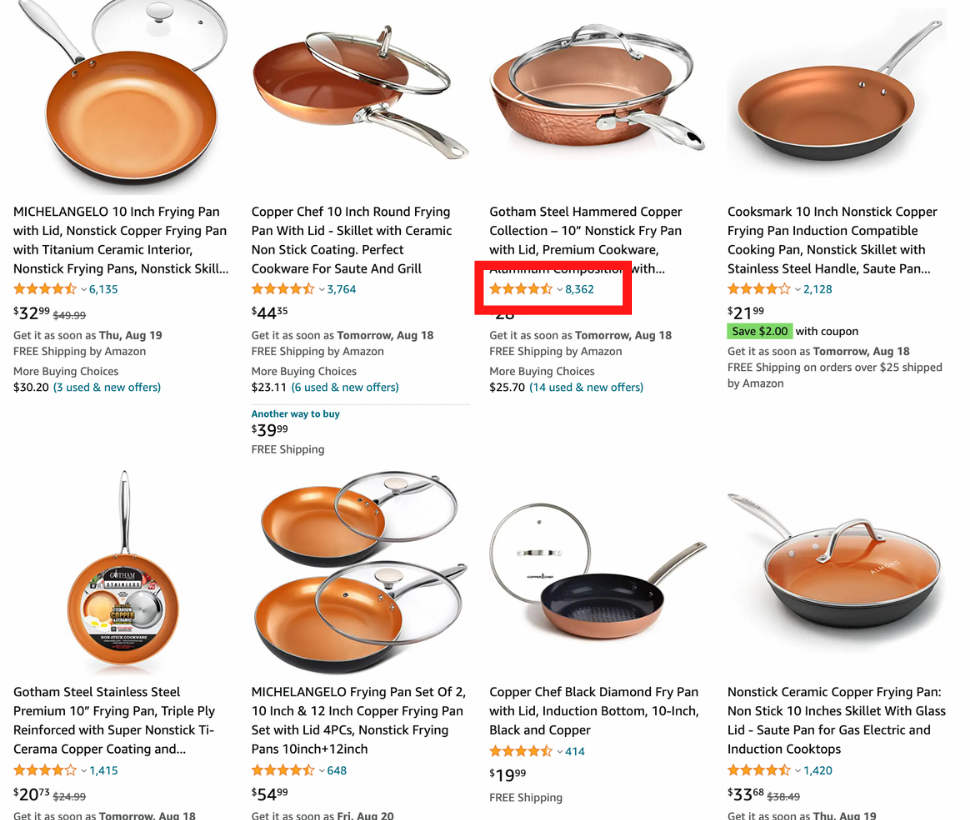 How Amazon Reviews Impact Sales Performance
Amazon Reviews Increase Product Visibility
1) Increases Organic Ranking on Search Results Page
Amazon's A9 algorithm naturally takes into account the number of positive reviews for a product. When you search for a product on Amazon, you'll notice that most listings on the first page of search results are populated with products with over a thousand, 4+ star rated reviews. If you're a new seller that just recently launched a product, however, don't be intimidated just yet. Studies show that, on average, 270% of consumers are still likely to purchase a product that has at least 5 reviews rather than zero.
2) Narrows Down Your Competition Via Search Filters
Given the thousands of product offerings on Amazon, most shoppers will utilize search filters to narrow down their options. One of these filters includes the 'Average Customer Review,' where it's safe to assume that shoppers will most likely filter out products with less than 3 stars. This search filter is also valuable to newly launched products trying to get sales traction since it takes into account only the star rating and not the number of Amazon reviews.
3) Helps with Winning the Buy Box
Though a lot of factors affect whether a seller wins the Amazon Buy Box or not (mainly product pricing and fulfillment metrics), Amazon's system can also weigh the feedback you receive against other competitors. That said, it's important to know that even if there's a difference between Seller Feedback (feedback you receive based on your performance as a seller) and Product Reviews (reviews about the product itself), most customers will often leave a bad product review on Seller Feedback pages and vice-versa.
Amazon Reviews Increases Sales Conversion Rate
1) Builds Social Proof
With about 83% of people trusting online reviews over advertising, building social proof on your Amazon product detail page is necessary to gaining sales. When potential customers browse through your Amazon reviews, they're looking for unbiased information beyond what's provided in your listing content.
You'll find that in some reviews, highly satisfied customers tend to write incredibly detailed and even personal reviews about your product, which other shoppers can then vote as 'helpful' to them. The more positive your social proof is, the more your listings are likely to convert into sales.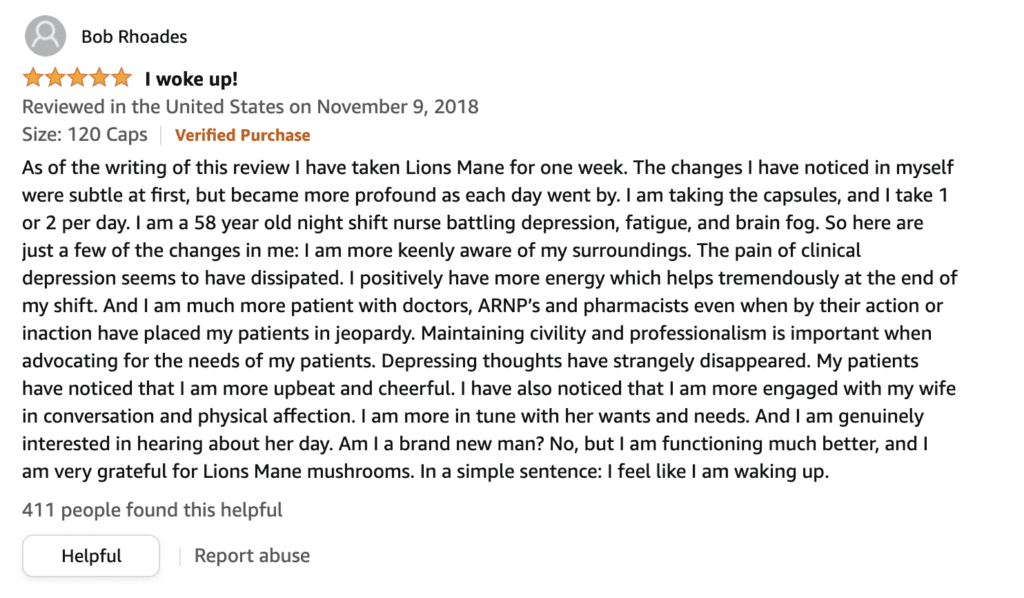 2) Helps You Improve Your Product
In hindsight, negative product reviews can actually be a good thing. You can use these reviews to identify the specific needs of your target customers and use that data to further improve your product. Promoting these improvements on your listing doesn't just make your product more attractive, but shows customers that you listen to them which can increase sales conversion and customer satisfaction.
A perfect example of this would be from our client, IQBAR. A few reviews previously expressed dissatisfaction over the taste of their products but after improvements to their recipe, the negative feedback quickly turned into positive reviews.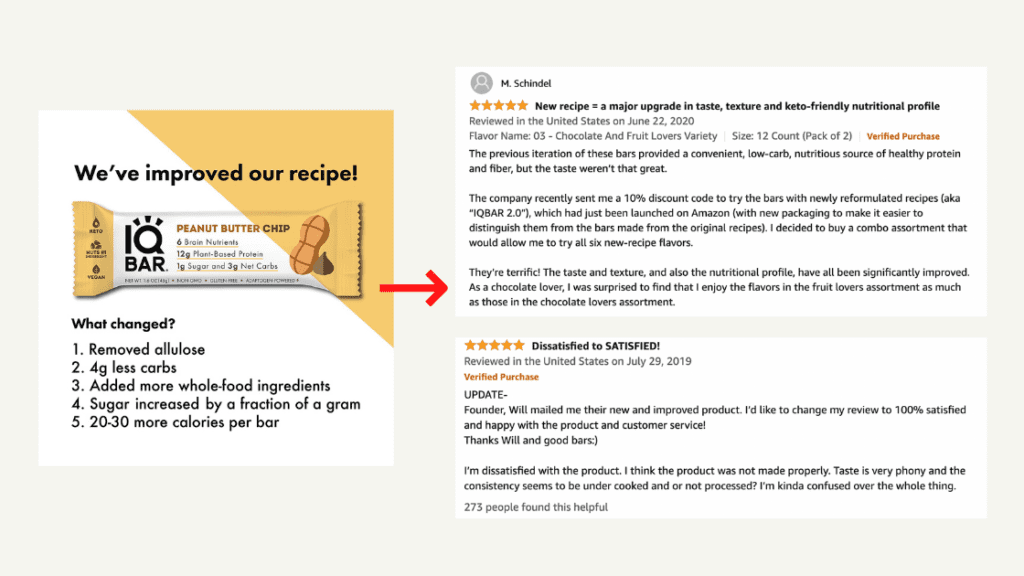 3) Strengthens Your Overall Marketing Campaign
Gaining sales traction on your product listings is a combined effort of multiple strategies. From listing SEO and PPC to social media campaigns, Amazon reviews help internal and external traffic convert into sales by helping solidify purchase decisions. The last thing you want is for Amazon's algorithm to pick up on your low conversion rates due to lack of reviews — despite the amount of traffic going into your listing.
How to Leverage Amazon Reviews for Increased Sales
1) Share Positive Reviews Outside of Amazon
Though Amazon policy prohibits the use of customer reviews to promote a product across the board (from product detail pages to Amazon Posts), you can collect your positive Amazon reviews and highlight these on your social media pages, email marketing campaigns, and off-Amazon advertising campaigns to build social proof.
2) Gather Reviews for New Product Research
When looking to expand your Amazon business, a good way to identify new product opportunities is to look into the negative reviews of your competitors on Amazon. Similar to using the negative feedback you receive to improve your own products, this product research tactic is a surefire way to get ahead of competitors that don't address their current customer's problems.
Final Thoughts
Just like on any other eCommerce platform, reviews are crucial to your sales performance as they provide social proof, strengthen your various marketing campaigns, and increase organic ranking. In this digital age, consumers have become warier of advertisements, thus indicating the need for more genuine, word-of-mouth marketing from fellow shoppers.
If you're new to Amazon and you're struggling with gaining reviews on a new product, you can check out our article on how to get Amazon reviews here, or schedule a free consultation with our expert review generation team that's managed to achieve thousands of reviews for over 500+ products launched on Amazon.